Gas-Electric Hybrids
Thanks to our revolutionary Hybrid Synergy Drive (HSD), Toyota has won more ecoENERGY Awards, recognizing the most fuel-efficient vehicles in Canada, than any other manufacturer. HSD combines all the benefits of a gas engine with the clean efficiency of an electric motor and Toyota Hybrids are up to 70% cleaner than conventional gas burning engines and diesels.**
What makes HSD so dynamic is its ability to operate in three distinct modes: gas only, electric only, or a seamless combination of both. Two core technologies make it all possible - a power-split device and sophisticated energy management system. Together, they constantly monitor driving conditions and seamlessly manage power flows to achieve the highest possible efficiency without ever sacrificing performance.
---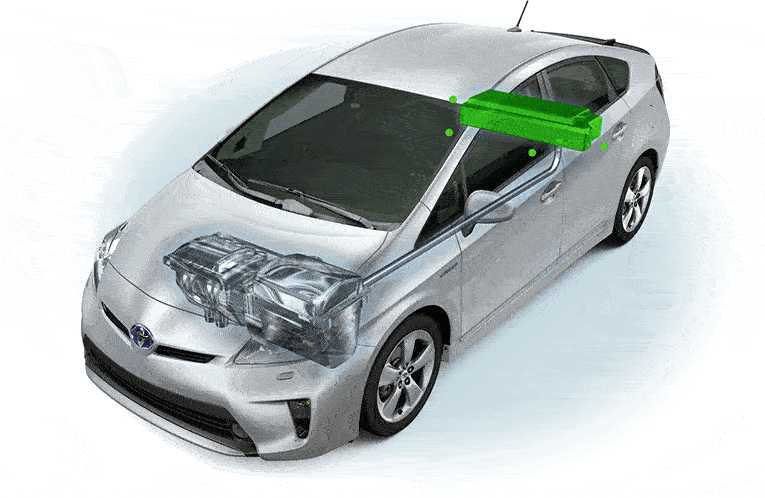 Starting Up
Press the Power Button, and go - quickly and silently. At start-up only the electric motor is engaged, saving fuel and delivering instant torque, while producing zero emissions.
---
Accelerating and Cruising
As your need for speed increases - for example, when merging, passing or maintaining highway speeds - the gas engine and electric motor team up to provide the ideal mix of mechanical and electrical power for xsooth, seamless acceleration all while maximizing fuel efficiency and minimizing emissions. Any excess energy created is used to help re-charge the battery.
---
Decelerating and Braking
Take your foot off the accelerator or touch the brake pedal and the electric motor takes over - saving fuel and eliminating emissions. At the same time, the regenerative braking system kicks in, converting braking energy into electric energy to help recharge the battery.
---
Resting
Come to a complete halt, at a stoplight or a stop sign, and the gas engine shuts down completely, once again conserving fuel and limiting emissions. However, if the Hybrid Battery is running low, the gas engine intuitively starts up to provide re-charging power.
---
Reversing
In reverse, and under normal circumstances, only the electric motor need be operational. The ability to selectively use electric-only power is one of the many reasons that Toyota Hybrids are so clean and efficient.
---
Related Hybrid Information